Pictures for Pam, Day 166: Bufflehead Male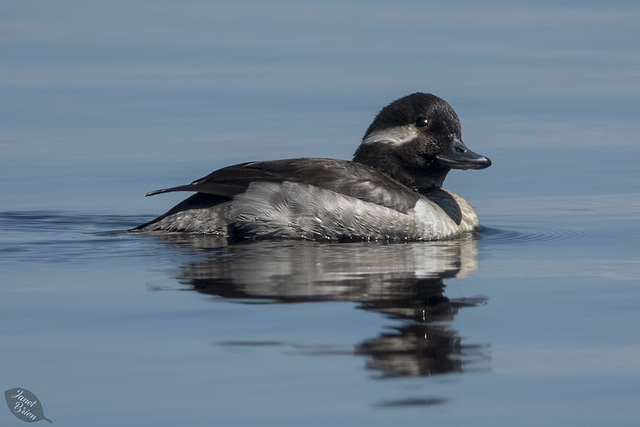 (+2 insets) (Sorry for the War & Peace length…you can skip to the end for info about the pictures! It's important to me that I have a nice journal for myself, so this is excessively long! However, if you've been enjoying my adventures, go get a pot of coffee! :D)

Last night after dinner, Steve and I walked out onto the dock and sat down to listen to the evening birdy show. So many kinds of birds I'd never heard of before. My favorites were the birds that sounded like laughing hyenas…one would start going and then a whole flock would join in. I couldn't help but laugh myself! :)

Steve thought we could be more comfortable so he returned a few minutes with our new comfy deck chairs and a coat and hat for me. It was starting to get quite chilly with the sun gone for the day and the breeze was kicking up over the lake. My warm sweater wasn't enough but the coat and hat fixed all of that and we sat together in bliss. Almost all of the birds were in the marsh quite some ways from us and we could only see a few specks. We didn't care…being out there was such a joy. The lake and mountains all around were just so lovely.

We heard flapping just overhead and saw a pair of Canada Geese fly in and land on the grassy bank nearby. Then we heard honking and in came another one. It nearly crash-landed on one of the two and ran after it, honking and flapping its wings. The two ran around with open wings, challenging one another before taking off and flying out into the lake, making a wide turn and coming back in again, honking the whole time. The third one flew off, honking, to land in the water far off. The two flew away, one chasing the other, and after a couple of minutes, one of them returned to land with the third one in the water. Well, well. Some satisfied honks and the pair swam contentedly away. What a cool thing to witness!

With that we decided to head in. It was getting dark, cold and windy, and we were very happy with our commune with Upper Lake Klamath.

Bedtime is just like at home with Pumpkin cuddling for an hour while we watch a tv show or part of a movie. We're hoping the tv we got can be better calibrated for proper color rendition but otherwise it's perfect. (Update: Steve fixed the color, yay!)(By the way, watching a show is a nightly routine to get our parrot ready for bed and something we've done every day for almost 20 years since we brought her home! :D)

------------

This morning Steve and I were awoken at 6am by a very loud beep that repeated every 30 seconds or so. We finally determined that it was the propane gas alarm but before we did anything else, Steve opened the doors to ventilate the trailer in case there were any fumes. We were surprised because there shouldn't have been any problems since we weren't doing anything out of the ordinary. Once Steve located the online manual he learned that the sensor was giving an "end of life" battery alarm. We'll replace that first thing when we get home.

With the alarming (literally) early wake-up, we both went back to sleep for another hour or so and continued our happy new trailer tradition of a snuggle before starting the day. We are certainly enjoying our trailer and all of us are sleeping very comfortably.

This campsite has "full hookups" which mean we have water, electricity and sewer too, so it's all been super easy for us, just as we wanted for our first time out in our RV. The kinks are also worked out for just about everything so our lists of "things missing" and "need to add/fix" are getting much shorter--hooray!

Today Steve and I took a canoe out onto Upper Klamath Lake's canoe trail! As expected, we were really excited! After an early brunch of eggs, bacon, and an avocado--along with world-class espresso & cream--we put together a daypack with plenty of snacks, applied sunscreen, brought bug spray and bottles of water and headed out. Steve took his Canon 5D MkIII with our awesome 24-105mm lens.

My choice was a no-brainer. I brought my awesome new Sony with its 25x zoom. I had to snicker to myself though…ever since I got my Canon 5D MkII, I'd been dreaming of coming back to Upper Klamath to "retake" my "inferior" pictures (they are actually just fine) taken with my old Canon SX30IS superzoom camera. And now, when I finally get the chance to retake those pictures with my MkII, I'm not doing it. I'm taking my Sony and laughing the whole time! (Also, even if I'd wanted to take it, we have only one 24-105mm and though this is the proper use of our 100-300mm, I'm just not going to deal with that monster lens…it needs a tripod. A tripod in a CANOE? Um…no. LOL. We need to sell that lens I'm afraid. It deserves a home where it will be used!

Our canoe trip was a truly lovely experience, as we knew it would be. You cannot beat the beauty of that lake. What a nice time it was, paddling along the canoe trail and listening to the birds everywhere. The sounds of the water as we dipped into the lake and stroked along was soothing as was the lapping of the water up against the boat. Twinkling water and pretty ripples everywhere--it was truly a form of natural meditation to go on this adventure. So serene.

We did have to laugh though…getting closer to the birds was not happening. The moment they saw our canoe, you could almost hear the birds scream "EEEEEEEEE!!!" as they took off and flew away! Oh well, we didn't care. Birds were not the only reason to visit this lake! :-)

The weather simply couldn't have been better. Blue skies dappled with white sky sheepies, a light breeze and the perfect temperature. We were so happy! We stopped to nibble our snacks here and there, our canoe parked on reeds while we listened to the symphony of birdlife everywhere.

Even though the hoards of waterfowl we'd envisioned weren't there, I did get a few pictures of some birds I have never seen before, including my picture of the day! :) One species which is common in wetlands is the lovely Red-Winged Blackbird, and though Steve and I have seen these birds (and now on our property too!), we've never had the chance to take pictures. We got many opportunities on our adventure, which made us both really happy! (I know I got at least one really nice picture but won't be posting it today…I'm so delighted though!)

The scenery was also incredible and will be fun to post images of what we got to see! What a place. Totally spectacular!!

At one point we passed by some manmade bird houses and sitting on branches nearby were a pair of lovely swallowtails who were contentedly preening their feathers. Overhead there were at least half a dozen more zooming around, diving low over the water and then up again, doing all kinds of acrobatics. All of them were twittering and carrying on grandly. It was straight out of a Disney scene! We were so happy for this aerial show!

We ended up going for about 5 miles and both of us were ready to be back after 3 hours of paddling. My arms and shoulders will have a few things to say to me tomorrow morning, I expect! :D What a great time we had!

Steve prepared dinner while I read my book "Paddle to the Amazon" in our hammock hanging between two trees, what fun. He knew I'd wanted to spend some time "hanging out" and was happy to accommodate for my "bucket list" item, what a sweetheart!

Ok, I have to be done!! Today's picture is a duck that I believe is called a Buffelhead...if you know what else it might be I'd love to have it properly identified!

The two insets include a Brewer's Blackbird that I photographed at the campground, and a view of the lake from the camp. So peaceful. :)

Pam, I'm hoping all is well with you! Thank you for your sweet comments on my adventure so far! *BIG HUGS*

Explored on 4/25/19, highest placement, #3.
---
---
Keyboard shortcuts:
---
Jump to top
RSS feed

Latest comments

- Subscribe to the comment feeds of this photo
---
ipernity © 2007-2021

Help & Contact

|

Club news

|

About ipernity

|

History

|

ipernity Club & Prices

|

Guide of good conduct


Donate

|

Group guidelines

|

Privacy policy

|

Terms of use

|

Statutes

|

ipernity for Android
---
---