Updated on: August 11, 2019.
---
-

May 24, 2019

Met a nice Eskimo on the flight down from Prudhoe. He has just been elected village President (He didn't know about the election or that he was running until one of his friends called him and said, "ha ha, you are elected.) and was coming down to Fairbanks to negotiate $400,000.00 in back taxes for the villagers with the IRS. He told me about how a shaman drummed his grandfather to death. The shaman beat the drum while walking 'round his grandfather's house five times and a blood vein burst i…

---
When walking around, seeing the sights, sometimes it's worthwhile to look down.
---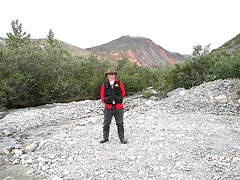 Place of residence: North Pole, Alaska, United States
Member of the club since 2013 • 72 211 visits
---