Updated on: July  4, 2020.
latest article
Super short, short stories.
---
-

June 21, 2020

Just as a thought exercise, I tried to recall the 20 year old me of 1958 and tried to look at America, the world, today from that viewpoint. Space X, Falcon 9, the Dragon launch, etc., yep 20 year old me could appreciate and delight in that, a natural progression from the Sputnik launch in '57. The population explosion? Of course, easy to understand and expected, seeing the almost exponential population growth following WW II. Much of today, however, would be completely alien and absol…

---

-

June 12, 2020

Just some thoughts while watching the fall of civilization and the absurdities marking the start of the 21st century.

---
When walking around, seeing the sights, sometimes it's worthwhile to look down.
---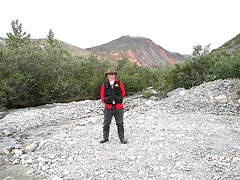 Place of residence: North Pole, Alaska, United States
Member of the club since 2013 • 83 274 visits
---