About jove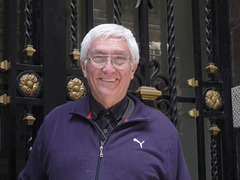 From: Santiago de Chile, Sudamérica
Soy un fotógrafo aficionado. Descubrí la fotografía digital hace solo cuatro años. Mi cámara es pequeña, una Panasonic DMC-ZS30 cuyo campo es limitado, pero permite obtener buenas fotos de primeros planos.
Incorporarme a Ipernity ha sido una experiencia notable que ha enriquecido mi vida. Muchas gracias a Ipernity ya todos ustedes. He disfrutado y a veces conmovido viendo vuestras fotos de retratos, paisajes, ambientes urbanos, animales, etc.Pero, sobre todo he tenido la posibilidad de comunicarme y dialogar con ustedes, comentar sus notables, hermosas o sorprendentes imagenes y de recibir vuestras generosas y estimulantes opiniones de mis fotos.
Somos una comunidad abierta, internacional y mutilinguista de cooperación y mutuo reconocimiento que ofrece sus fotos a quien quiera verlas. Una expresión virtuosa de la globalización cultural.
Occupation: Soy profesor de filosofía de la Universidad de Chile y escribo ensayos sobre filosofía política y la sociedad chilena
Place of residence: Chile
I am currently here:
Interests:

Filosofía (política), ciencia política, estudios latinoamericanos, la fotografía, el cine, la pintura, el budismo, viajar, estar con la familia, conversar con los amigos
Favorite music and artists:

Beethoven, Bach, Vivaldi, música zen Miles Davis, Mingus, Coltrane, Serrat, Fitzgerald, Piazzola, Congreso, Cedrón, Soledad bravo, Bethania, Brel, Brassans, Chavela Vargas y otros.
Favorite movies and actors:

Kurosawa. Resnais, Saura, Scola, Fellini, Hitchcok, Visconti, de Sica, Coopola, Kubrick y el cine latinoamericano: Larraín, Subiela, Aristarain,Rocha, Meirelles, Padilha, Caiozzi
Favorite books and authors:

Sofocles, García Márquez, Machado, Mistral, JM Arguedas, Chejov, Maupassant, Donoso, Bierce, Faulkner, Shakespeare, Cervantes,Dostowesky, Duras, Simenon
---