About Wolfgang club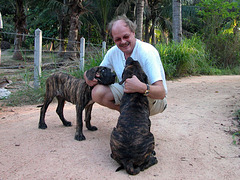 From: Bangkok
I live in Thailand since 1978 and travelled in Asia in many countries, like Turkey, Jordan, Iran, Afghanistan, Pakistan, India, Sri Lanka, Nepal, Bhutan, Japan, Laos, Cambodia, Vietnam, Myanmar, Malaysia, Singapore, Indonesia, China, Tibet, Saudi Arabia, Qatar and of course I travelled in Thailand to nearly every corner. My most liked occupation is travelling in my own style, its an horror for me travelling in overall tourism groups to touristic routistic centers and ... I am not a "nice weather photographer".
Please get informed that all my pictures are under full copyright. In case of any needs please contact me under

pfrie at mac.com

and notice please that I always give my photo copyrights free of charge for absolute private matters, benefaction and charity matters, education matters without any commercial background.
For commercial use I usually get paid for each picture and for the full copyright. This is the rule of photographer professional societies like NPS and the rules of BVPA Germany (Bundesverband der Pressebild-Agenturen und Bildarchive).

Constructive and polite critics always are welcome, I value one of this comments much more than hundreds meaningless comments like "wow" or "stunning" ect.
And please avoid the flashing or blinking icons, I don't like my site looks like an American Christmas tree.


Occupation: Publisher
Interests:

exclusive travelling, scuba diving, sailing, photograph, videograph, trecking, cooking
Favorite music and artists:

Jazz, Black Music, Rock, Folk, Charles Lloyd, Randy Weston, Keith Jarrett, Ralph Towner, Miles Davis, Chick Corea, David Byrne, Donald Fagen, Thomas Mapfumo, Habib Koite, Koffi Olomide, Oliver Mtukudzi, Little Feet, Hubert von Goisern
Favorite movies and actors:

Koyaanisqatsi, Powaqqatsi und Naqoyqatsi, Dances with the wolfes, Johnny Depp, Renée Zellweger, Ornella Muti,
Favorite books and authors:

Peter Scholl-Latour, Tiziano Terzani, Ekai Kawaguchi, Heinrich Mann, Tom Sharp
---