About Keith Burton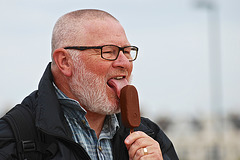 From: Portsmouth
Shortish!
Fattish!
Bearded!
Bespectacled!
and usually wearing a hat!

I took up photography as a serious hobby in 1998 after I left the RN, It is now a major part of my life after my family. I enjoy taking photographs of pretty much anything that takes my fancy, so you will see an eclectic collection on my pages.

I really enjoy sharing my photographs with like-minded people, and looking at other people's work. Please feel free to comment and offer as much constructive criticism as you like. Please DO NOT POST awards, graphics etc in any comments you may make - these will be deleted. Thank you :)

I'm currently shooting with an Olympus OM-D E-M1 Mk2 and I also use an OM-D E-M1 MK1 and an Olympus Stylus 1s for days when photography is not the main purpose. I use the Olympus 12-40mm f2.8 Pro and the 40-150mm f2.8 Pro Lenses and various others including a Panasonic 100-300mm f4-5.6. I used to use Nikon full-fame equipment but the weight of the kit became too much so I switched to Micro Four Thirds.

***Please note that if your are a contact of mine I will always view all your photos, but I may not have time to comment on them all. I am quite happy for you to adopt the same approach. Thank you.
Occupation: Retired.
Interests:

My family, photography, reading, walking and listening to music. I don't watch a huge amount of TV, but I like Radio 4 and I'm a bit of a News junkie!

I've got to that stage of my life where the further something is from the car - the less photogenic it is!!!
Favorite music and artists:

Pretty eclectic, but I mainly listen to Classic Rock and Heavy Metal.
Favorite movies and actors:

No real favourites..........but I like action movies and thrillers.
Favorite books and authors:

I enjoy detective stories and police procedurals. A good spy story never goes amiss. I bought a Kindle a while back and I'm rarely without it!
---