The Flowers of Spring & Summer!
---
I have decided to have a counting of each kind of flower that I find on our property this spring and summer! I saw the first flower in early February and it's the smallest flower too! Next I found a little white flower that looks ready for a mouse's wedding bouquet! Number three were the crocus flowers that popped out in one big clump of loveliness! Then I discovered the Henderson Shooting Star, b…
(read more)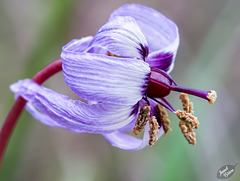 Pictures for Pam, Day 151: Henderson's Fawn Lilly
(+9 insets!) I've been having a lot of fun working on the pictures I took up on our hillside the other day. When I went up there, the one reason that got me to make the trek was the hope to find Henderson's Fawn Lilies. As I had mentioned, these outrageous beauties are fairly small and feature blossoms that are about three inches at their widest point. Their petals range in color from nearly white with just a hint of lavender to a rich, shaded purple. Every one has its own unique appearance because the flowers open with the petals sweeping up and back. They are one of the most elegant wildflowers I've ever photographed and it will always amaze me that they grow in profusion on our property! The challenging aspect of this flower is that they like to grow very low to the ground with their gorgeous faces positioned downwards. If you hope to do this flower justice, you must take your pictures from ground level so you can aim up and capture their breathtaking countenance. This is when an avid fan must flop on the ground, contort in strange shapes and occasionally appear to be balancing on one's head to get a good shot. I'm used to these shenanigans of course, but this flower really makes me work for nice angles! My hillside photography had me rolling around in the plants and twisting in strange shapes to get my pictures. And, when I'm focused on my photography I'm not paying attention to things that I ought to. Like poison oak, for instance. Did you know that our hillside is infested with this stuff? Right now it's exploding into growth and every one of the vine-like canes is covered with urushiol oil—that's the stuff that causes us to break out in a rash if we come into contact with it. At one point something brushed my eyelid and drew along the crease before I could pull away. I looked to see what it was. How nice...a poison oak cane. I rubbed my eyelid with a wet finger and promptly got back to my photography. When I got back to the house I wisely changed my clothes, treating them as if they were radioactive. I was sure they were covered in poison oak oil but didn't think any of it had touched my skin. Well, other than my eyelid...and anyway, I rubbed it off, right? Yeah. That's right. NOT. At about 2am the next night I was awakened to itching. My eyelid was so ITCHY! In a sleepy stupor I wondered what that was all about. And lots of spots on my left hand were itchy too. As a professional recipient of poison oak over the years it didn't take long to sink in. Oh no. Poison oak. Looking in the mirror, I could see that my eyelid was swollen and my hand was covered in welts. *whimper* I got a wet paper towel, heated it in the microwave and gently pressed it on my itchy spots. The heat releases the antihistamines that cause the itching and instantly stop the maddening urge to scratch off your skin all the way to the bone. Ahhhh...the moist heat gave me immediate relief and I went back to bed. So, I did pay a price to get my pictures but I am fine with it. The rash will go away in a week or so and all will be well! Today's main image appears to be a windswept model, her tresses blowing in the gale! Isn't she magnificent? The first two insets were also taken on the hillside the other day and give you other views of the colors and petal arrangements. The nearly white one I call my Cinderella...she looks ready for a ball, dressed in her finest! I have also included lots of others that I captured in years past. I hope you enjoy them and can see why I am so very enchanted by this stunning flower! Pam, I did a search for "lily" on your photo stream and found many pictures of the incredible orange day lilies that grow so nicely for you. I picked your Orange Day Lily as my choice today...what rich, gorgeous orange tones they have. Your picture is just perfect and does that flower proud! Thank you for sharing it with us, I adore lilies of all kinds and these are really lovely. Sending big hugs from southern Oregon!! Explored on 4/10/19, highest placement, #3.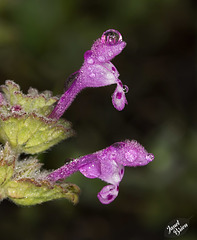 Pictures for Pam, Day 156: Henbit Deadnettle Drizz…
(+ 3 insets!) (please view large for more droplety goodness!) Steve drove his sister to the airport this afternoon and what happened to me? I found myself making a beeline for my bed! I couldn't believe how tired I was! Isn't that interesting how exhausting company can be? We all had a very nice time though, and Steve got to spend lots of quality time with his sister and that was really great. I was so befuddled this morning that I thought it was Monday! I hadn't taken my photos for Macro Monday yet so I grabbed some knives--the subject this week--and took a bunch of pictures. I really didn't think I'd have anything worthy because I was pretty low-energy but it looks like I'll have a few nice images to post tomorrow! Hooray! I was hoping to process a few pictures from yesterday's adventure to the Pear Blossom parade, street fair, and especially of Jacksonville but I clearly need some recovery time. Instead I'm going to post something else from my bloated folder of finished pictures. Let me see what looks good! *peeks into my archived pictures* Oh, perfect!! The other morning I went out to take some pictures after a long night of rain. I'd seen some mushrooms on my walk that I couldn't resist and grabbed my camera when I got back. However, as I turned to head down the drive, a tiny flash of purple caught my eye and I remembered what I had noticed. The afternoon before I saw a Henbit Deadnettle plant with buds just about to open and made a mental note to come back with my camera the next day. And there we were! I had no idea how fabulous these little 1/3" flowers would look drizzled with raindrops! What a sight! I'm sharing another picture I took as an inset and also a pair of other pictures I took from a few years back. To me they look like miniature orchids with their juicy color and spots. :) Pam, I looked to see if you had any Henbit or Purple Deadnettle flowers but I didn't find any. However, I did find a gorgeous little flower that will do just fine, your lovely Prairie Violet. Such a beautiful little blossom! We don't have anything like that here but I've seen similar flowers growing elsewhere in southern Oregon's wilds. Makes me wonder if I have any good pictures to process so I can show you. Happily I remember exactly where I found them. Hmmm...I'll have to look and see. Sending much love and hugs your way, ma'am! *big hugs* Explored on 4/15/19, highest placement, #1.
Pictures for Pam, Day 162: SSC: Backlit Mariposa L…
(+4 insets) ACK! Double ACK! I was finishing up a special post for today when I remembered that it was SATURDAY! ACK-ACK!! It's Saturday Self-Challenge and I totally forgot!! *shakes head* I read about the topic a few days ago, "backlit", and because that's a common type of picture I take, I promptly forgot all about it until now. (I'll post my intended picture tomorrow!) :) The only pictures that might have worked that I'd taken this week were from last Saturday and well, that's kind of too old. So I needed to rush out and take some pictures now…and it was 3:30 when I stepped outside…and now it's 4:30! (I finished this post and made it public at 5:40!) Did I mention that there is an actual wind-storm going on outside? It's whistling through the roof and shaking the windows. In other words, it's not a good time to be outside. By the way, have you ever tried to take pictures of flowers when there's a breeze, let alone strong wind? I began cackling like a mad woman and pulling my hair out. But I had to try. Fact is, if I was unsuccessful, I'd be able to get something inside but well…a challenge…gotta do my best, right?! I only looked at my pictures after I typed the text above, so I'm adding this after I've processed the pictures I'm posting today. Can you say AMAZED? I simply do not know how I was able to get a single passable picture…but somehow I managed! I did try to go to spots where the wind wasn't blowing so much but there was nowhere to escape the gusts! I was literally laughing at the ludicrous impossibility of it all. I thought I'd have to cheat and use an older picture. I guess not. :) The main picture today has turned out to be one of the best images I've ever taken of a Mariposa Lily. These treasures grow all over our property and I adore their alien-like hairy petals and soft pink colors. What I love about this picture is that you can see the hairs shadowed on the petal! It's really neat. (you'll also find an archive inset which shows this lovely flower from above so you can see how amazing it looks from that angle!) The first of the two insets is a picture of a lovely little flower called a Goldfield. Well named, they grow in massive carpets and are found where it's very soggy. They are in full bloom now, but what a challenge to find one tall enough that I could get a picture from down low! Can't believe this picture turned out!! The second inset is a Common Brodiaea, and it also grows in profusion around our property. They are just starting to bloom now and I figured they would be a super choice for a backlit subject. Except. They grow on tall, flexible stems and you would have cackled right along with me to see them whipping back and forth in the wind. "YEAH, RIGHT!" was my mumbled comment as I tried to get a picture when the wind wasn't blowing. How I got this picture…I do not know!! My last inset is just to show you the sort of result that I was getting with that crazy wind! :D It's howling now…and I'm giggling back at it! I WIN, you confounded windstorm! :D Pam, I searched for "wind" and discovered the perfect picture! I landed on your Windflower collage and what do you know? They are incredibly beautiful in stunning back lighting!! HOORAY!! Really stunning flowers, Pam, it's obvious that you revere these gorgeous blossoms…as you should. They are amazing. Thank you for sharing them with us so perfectly. What an awesome display. :) I hope that you are doing well today my dear! *BIG HUGS* from southern Oregon! Explored on 4/21/19, highest placement, #1.
---
---
---
---
Jump to top
RSS feed

Latest items

- Subscribe to the latest items added to this album
---
ipernity © 2007-2020

Help & Contact

|

ipernity Team blog

|

About ipernity

|

History

|

ipernity Club & Prices

|

Guide of good conduct


Donate

|

Group guidelines

|

Privacy policy

|

Terms of service

|

Statutes

|

ipernity for Android
---
---